Real-time tracking is an essential part of digitalisation that helps companies to increase manufacturing efficiency and reduce costs.
Industry 4.0 real-time tracking applications can be used to collect and analyse data about manufacturing processes. Industrial engineers can convert it into information for increased productivity. More data means better decisions and fine-tuned production processes that make maximum use of resources. Continuous monitoring also ensures a better quality of production.
The smart factory is at the heart of industry 4.0 and describes a production environment that is self-organising with the help of sensors and intelligently connected devices. Many companies are in the middle of this transformation process, and some are more advanced than others.
Industry 4.0 solutions from Estonia for Bosch Thermotechnology
For example, in its competence centre for water heaters in Aveiro, Portugal, Bosch Thermotechnology uses a location tracking network based on Ultra-Wideband (UWB) radio technology to locate and control logistics vehicles within the plant. Bosch Thermotechnology has almost 20 production sites worldwide, five of which are in Germany. This business division combines heating technology and hot water solutions, with international and regional thermotechnology brands under one roof.
The manually and automatically operated vehicles are used to transport material and components from the warehouse to the manufacturing site or between production lines. Since a production facility is generally a dynamic unit, a new situation can arise every hour and cause changes not foreseen in the original plan. Finding a particular material may take longer than usual, a machine may break down, or a deadline may change.
The indoor positioning system from the Tallinn-based Eliko company gives Bosch's internal logistics team more transparency about its processes. It provides a clear overview of a large number of vehicles, and which components and materials they are transporting where. This digitalisation enables faster planning, better route definition and higher efficiency. Shorter delivery times lead to greater cost-effectiveness and, ultimately, improved customer service.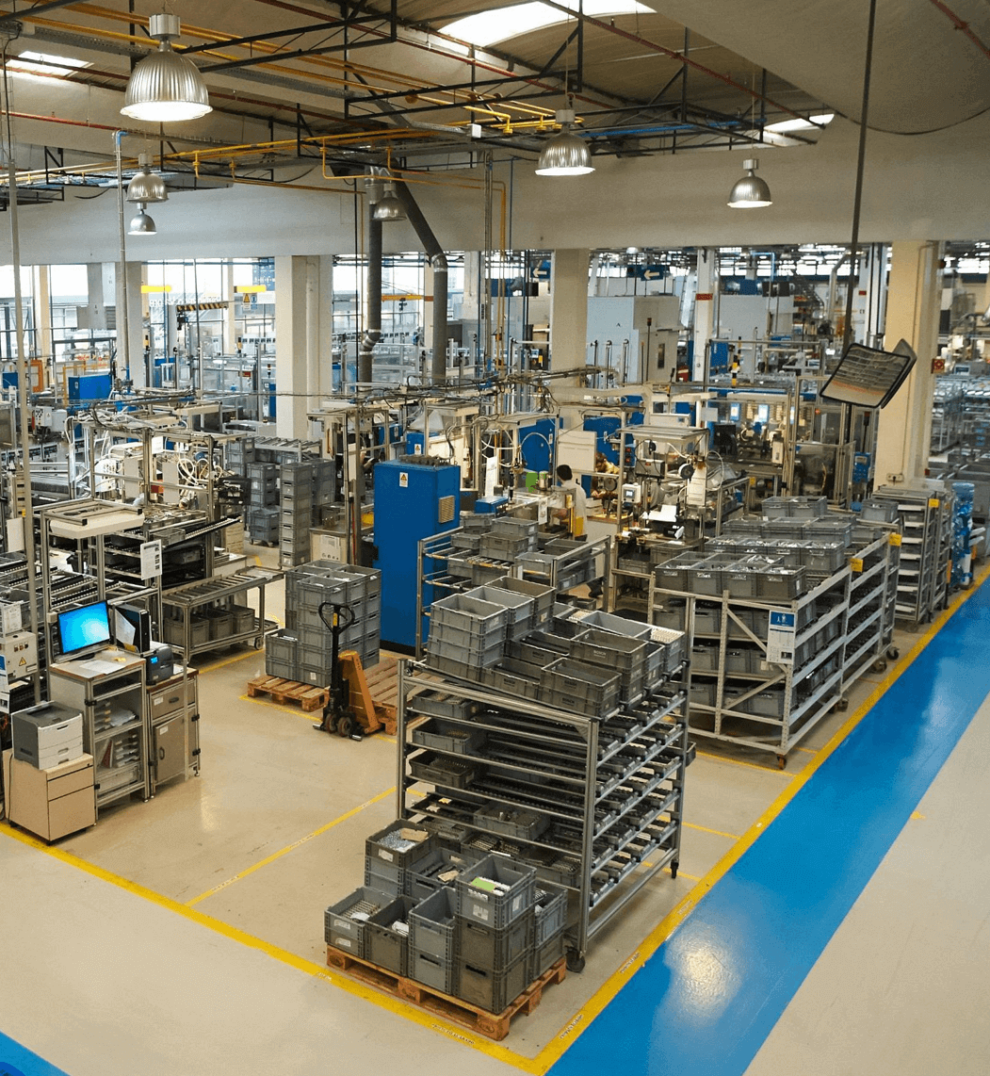 Real-time tracking is a control element for the smart factory
To make the right decisions, the people in charge need to know in real time what is happening within the production processes. They need the necessary information at the right time and in the proper format. Real-time tracking of various objects in production and the warehouse is an essential part of intelligent manufacturing and a control element when unplanned changes and details appear.
"In the factories and warehouses with hundreds of moving parts, location data provides a real-time overview of their status and movements," explains Indrek Ruiso, CEO of Eliko. "Reliable data makes it much easier to identify where to save time and improve safety."
"We studied several real-time tracking systems with different technologies and, in the end, we decided to implement the UWB RTLS from Eliko," says Tiago Moura, industry 4.0 and digitalisation engineer at Bosch Thermotechnology. "For us, it had the best location tracking results, the easiest configuration and the best cost-efficiency ratio." It was mandatory that the data be collected and processed on the Bosch network and not on an external cloud or server.
RTLS as part of industry 4.0 applications
RTLS stands for real-time location system and is part of industry 4.0 applications, since locating and tracking objects and people is essential for obtaining real-time feedback on process performance. Ultra-Wideband-based RTLS is suitable for industrial applications due to its location accuracy and reliability. It's currently the most optimal and precise way to establish a location indoors. Furthermore, due to its broad spectrum of GHz frequencies, it has a minimal probability of interference with other wireless networks.
Eliko specialises in UWB-based positioning networks for industry 4.0 environments. Example use cases include precise locating and tracking solutions for vehicles, people and goods indoors. Their services include network planning, installation and maintenance. Together with industrial system integrators and software developers, Eliko offers end-to-end digitalisation solutions that increase transparency, safety and productivity in warehouses and on the factory floors.
With their proprietary in-house developed UWB-based technology, Eliko can locate indoor objects with an accuracy of 5 to 30 cm depending on the environment and system configuration. Furthermore, the flexible system can also be used for room-level proximity detection, depending on the solution requirements if less accuracy is needed in some areas. UWB is reliable, requires low energy consumption and can pass through obstacles. These are all important features in production environments full of metallic manufacturing machines, such as at Bosch Thermotechnology, which has heavy presses and forming machines as well as assembly lines. In this challenging environment, the UWB antennas used to communicate with the vehicles in the hall are not only detected at points of passage as they used to be with RFID (radio-frequency identification) readers, but are now continuously tracked.
With the present UWB RTLS network from Eliko, Bosch has a useful tool for planning and continuously improving its internal logistics. In the next step, the implementation of additional functions is planned, such as data analytics and machine learning tools, in order to obtain some information from the history data, thus providing a higher level of insight for additional profitability.
Estonia as the most digitalised country in the world
"Estonian companies are leading the way in digitalising processes in manufacturing industries," says Triin Ploompuu, member of the board of the Federation of Estonian Engineering Industry. "Application- and customer-specific solutions from Estonia are used in over 120 countries. The companies quickly respond to customer needs and their adaptation in the process – at competitive costs." /…/
The article was originally written by Ragna Sonderleittner and published on Produktion. Read the full article here.
About Eliko
Eliko provides UWB-based positioning networks and services for tracking vehicles, people and assets indoors. Eliko's mission is to bring game-changing tracking networks to industrial organisations for higher transparency, safety and productivity. We empower production engineers and industrial system integrators who need a reliable location tracking solution partner. Together, we offer end-to-end digitalisation solutions. Eliko is a trusted name in the industry, validated by global leaders such as Bosch, Ericsson, SKF, e-Infochips and many others. We grow together with our partners and continuously innovate to offer the most reliable positioning networks for fulling business-critical needs. Contact us at .