Impedance Spectroscopy
Quadra platform is a patented impedance spectroscopy analyser suitable for both embedding and autonomous field applications. Electrical impedance spectroscopy is a widely recognised, non-destructive method for examining the properties of different materials and objects.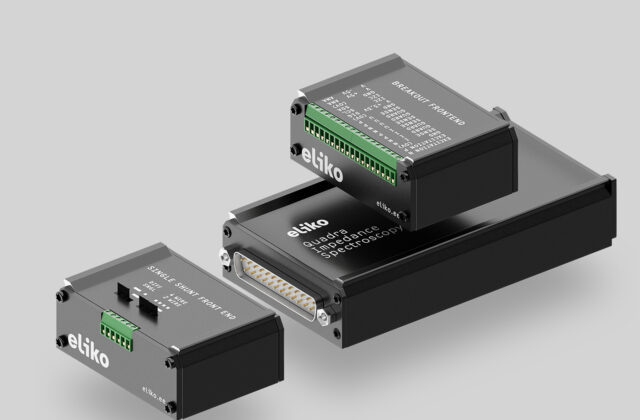 Simultaneous 15-frequency measurement for detecting subtle changes
Real-time 1000 measurements per second sampling rate for monitoring rapid changes
Patented technology based on 40 years of experience in impedance measurement
Software enables simple customisation for any application
About Quadra
Quadra impedance mapping technology is the result of 40 years of research by Eliko and the Tallinn University of Technology. The platform enables fast, real-time detection of changes in any object with electrical properties.
Quadra is both compact and powerful. It enables very fast, real-time detection of changes in any object with electrical properties.
Quadra has several applications in biomedicine, diagnostics and food technology.
The compact impedance-mapping technology can be used for creating portable connected devices or large-scale measurement systems. Quadra has validated applications in material and biological sciences, such as:
Identifying non-ferrous metal alloys
Medical diagnostics in cardiology
Meat quality measurement in food technology
How it works
Quadra platform generates a binary waveform with real-time calculation of impedance. It is possible to select different sets of 15 spectrogram frequencies. The highest set, 1 kHz…349 kHz is suitable for applications from tissue and material structure mapping to detection of cells and coatings. The lowest set, 0.5 Hz … 195 Hz extends down to frequencies used for electrochemical applications.
The impedance data is used for mapping and correlation with a phenomenon of interest. The ability to measure multiple frequency points in high repeatability mode results in an accurate real-time characterization of the object.
Get real-time impedance data with Quadra

Application-specific front-ends
Software enables simple customisation for any application
Frequently asked questions